Have any news to share from the world of Doctor Dolittle? Please email me, and I'll add it to this page! Meanwhile, here's some old news:

June 22, 2001: 20-Century Fox's "Dr. Dolittle 2," starring Eddie Murphy, opens in cinemas in the U.S. This time around, the Doctor uses his special ability to attempt to save a forest by establishing it as the home of an endangered bear species. Trouble is, Mama Bear isn't actually interested in setting up house with Papa...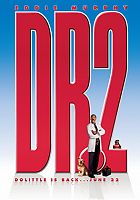 Tuesday, May 22, 2001: Original star Philip Schofield resumes the part of Doctor Dolittle (from Russ Abbott, who had taken it over) in the UK touring version of the Leslie Bricusse stage show "Doctor Dolittle." Paul Nicholas will "guest star" in the role on Friday, 8 June 2001 and on Saturdays for the remainder of the tour.
Upcoming tour dates and locations:
Liverpool Empire
> Tuesday 22nd May - Saturday 9th June 2001
Wolverhampton Grand
> Tuesday 12th - Saturday 30th June 2001
Theatre Royal Norwich
> Tuesday 3rd - Saturday 21st July 2001
Manchester Opera House
> Tuesday 24th July - Saturday 11th August 2001
Congress Theatre Eastbourne
> Tuesday 14th August - Saturday 1st September 2001
Bristol Hippodrome
> Tuesday 4th - Saturday 22nd September 2001
.